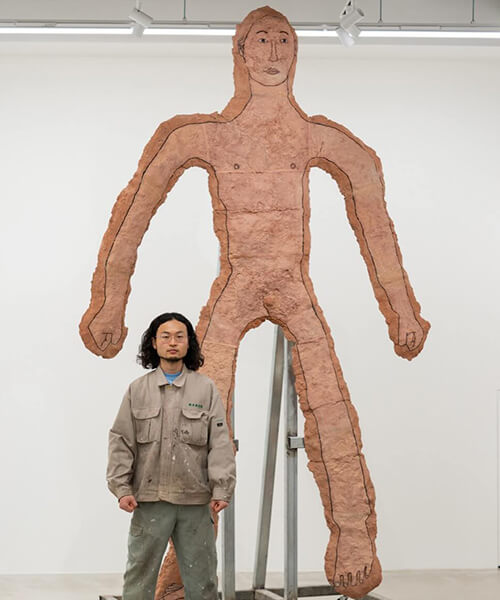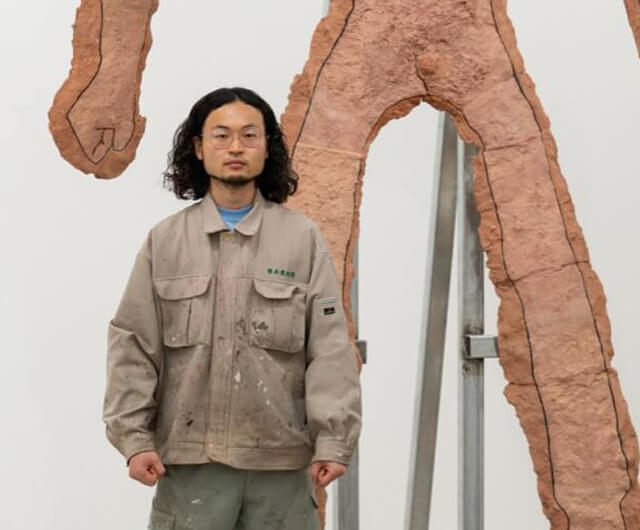 Born in Choshi City, Chiba, 1992.
He creates sculptures using ceramic as his main material. In recent years, he produces human figures based on various images, and his output is diverse ranging from a stick man to an old man buried in feces. His images are prompted by drawings, dreams, and the daily developments of prejudice and realizations. At TIG, he will exhibit a giant human figure over 3 meters high. A human-shaped hole dug in a garden will be made into a three-dimensional figure, and the figure will stand firm vertically. The standing figure will be a new breed of human excavated from the earth. His major exhibitions include Nothing At All at TokenArtCenter (2021), PERFECT OFFICE at AOYAMA STUDIO164 (2020). He was selected for Gunma Youth Biennale (2021), won the Grand Prize for CAF Award (2018) and the Nihon University College of Art Dean's Award (2015).
Public Collection: Permanent Installation of Dr. Yuto Nemoto's Statue in Daibetsu Iyashi no Mori Park, Fuefuki-shi, Yamanashi, Japan (2015).
PROFILE
| | |
| --- | --- |
| 1992 | Born in chiba/Artist based in Tokyo |
| 2015 | Nihon University College of Art sculpture course,BFA |
| 2017 | Tokyo University of the Arts,MFA |
| 2020 | Athens School of Fine Arts Exchange |
SOLO EXHIBITIONS
| | |
| --- | --- |
| 2021 | "Nothing At All" TokenArtCenter, Tokyo |
| 2020 | "PERFECT OFFICE" AOYAMA STUDIO164, Tokyo |
GROUP EXHIBITIONS
2021
"Yanase Villa and Sculpture" Tokyo National Museum Yanase Villa,
"The Gunma Biennale for Young Artists" THE MUSEUM OF MODERN ART,GUNMA, Gunma
"Polyphonic process + pressure" Hasikko, Tokyo
"THEヨエロ寸ー尋ー"VOU, Kyoto
"Infinite Jest" CadanYurakuchou, Tokyo
2020
Shibuya Parco Pottery Section, Oil by bijyututechou
2019
"COMITE COLBERT AWARD" The University Art Museum, Tokyo University of the Arts, Tokyo
"TONG POO" Musashino Art University FAL/Tokyo Zokei University CS gallery, Tokyo
"Un kneaded clay mind"Ueno Royal Museum gallery, Tokyo
2018
"CAF Award" Daikanyama Hillside Forum, Tokyo
"Venus Bound" The Art complex Center of Tokyo(ACT), Tokyo
2017
"Approach to the front" COCONANI左←→右, Tokyo
"Fragile Perspectives" COEXIST-TOKYO, Tokyo
"Raw symbols us – the current form of the portrait –" Koganei Art spot Chateau 2F, Tokyo
"Graduation works exhibition Tokyo University of the Arts" Ueno school building, Tokyo
2015
"Toumi Sakura Residence" Miyazaki Prefecture Nobeoka City River Pal, Miyazaki
"Kitano Foundation Sculpture Scholarship Exhibition" Nihon University College of Art, Tokyo
ACCOLADES
| | |
| --- | --- |
| 2021 | The Gunma Biennale for Young Artists |
| 2018 | CAF 2018 Grand Prize |
| 2015 | Nihon University College of Art Prize |