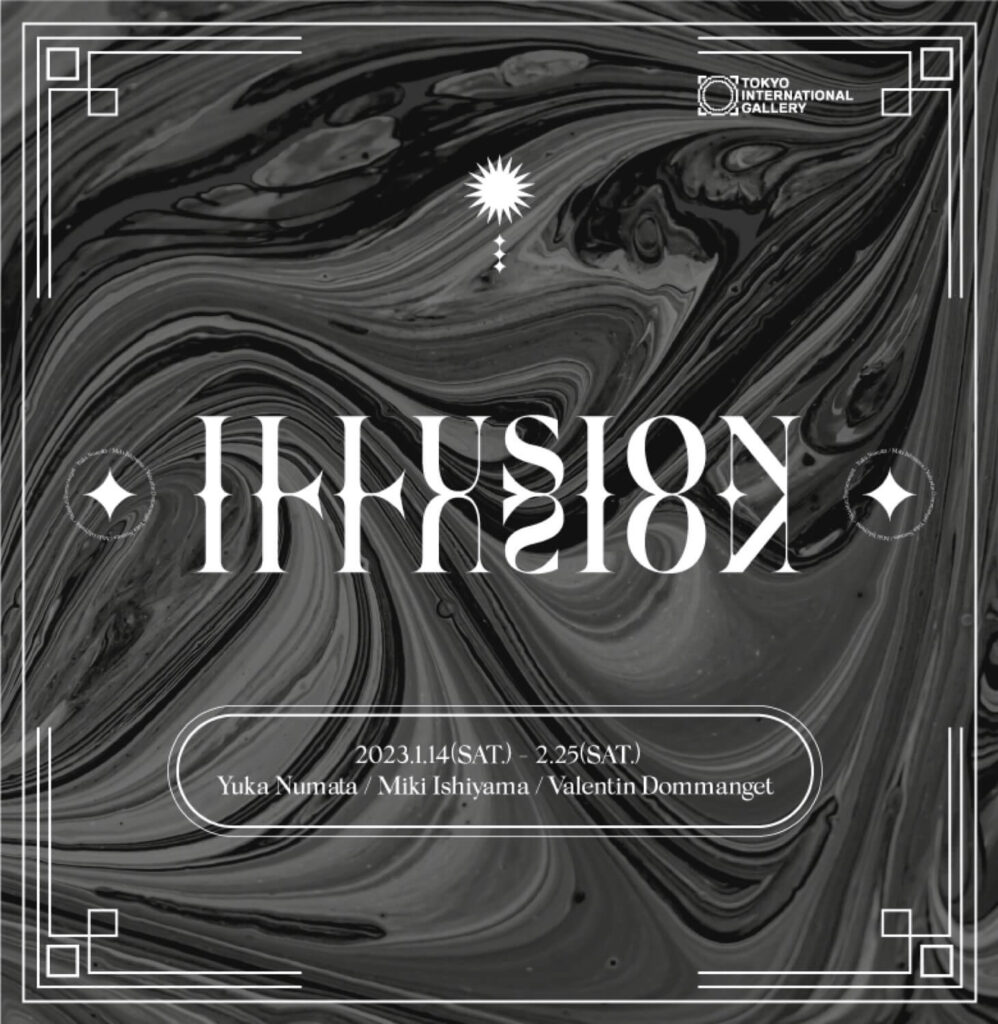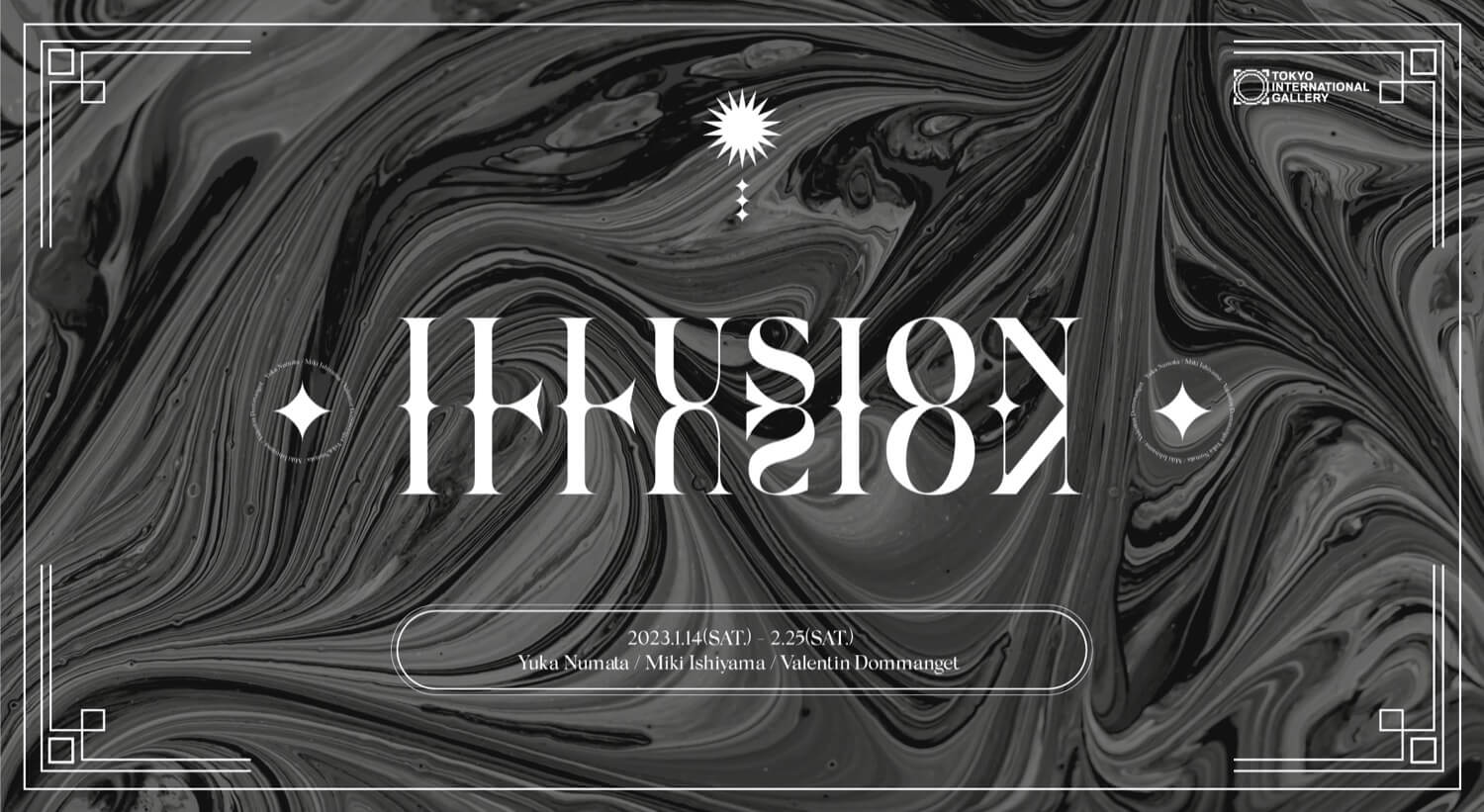 ILLUSION How to Address ILLUSION
Yuka Numata, Miki Ishiyama, Valentin Dommanget
January 14 - February 25, 2023
The Recontextualization of a Group of Works of Different Materials and the Pursuit of Their Essence
Tokyo International Gallery Co., Ltd. (Tennozu, Shinagawa) is proud to announce that it will hold a group exhibition of the works of three up-and-coming young artists, Yuka Numata, Miki Ishiyama, and Valentin Dommanget. The title of the exhibition is "How to Address ILLUSION."
The distortion and character of a work brought about by illusion differs according to the eye of the beholder. Although the materials and artistic processes of these three artists may differ, there is a mutual interaction in the way in which the illusion created by the viewer's eyes leads the viewer to the true nature of those works. In this three-person exhibition, the cross-reactions between the artists will be explored in an experimental way in the Gallery's spaces, in an endeavor to recontextualize the works and pursue the true nature of art itself as it burns into the minds of the viewers.
Yuka Numata uses plastic beads fused together with an iron to create single motifs. Her works plunge the viewer into an illusion that seems to shift between the two-dimensional and the three-dimensional. From a distance, they look just like a painting, but when viewed up close, they are quite obviously semi-three-dimensional pieces formed by those beads. The true nature of those works may be a fantasy that projects a real society that is a long way from what our eyes perceive.
Miki Ishiyama is an artist whose oil paintings have a pure sense of motion. Her large, richly-colored paintings bring to the fore the mysterious emotions that lay dormant deep within us. The various elements painted on the canvas twist and twine with each other, appearing to change shape when gazed at over time. This exhibition will present Ishiyama's worldview by showing several of her paintings, including some large new pieces.
Valentin Dommanget's art involves creating images on a computer, which are then output by lenticular printing. A feature of these lenticular prints is that the image changes depending on where the viewer is standing. The artist's intention is that viewers gauge their own sense of distance from the work as they move back and forth around it. Dommanget's drawings, which incorporate Japan's paper marbling techniques to create vibrant and contemporary mineral patterns on the canvas, seem like a symbol of contemporary society that leaps out from the conventionally flat domain.
The space that is created by the harmony of these three artists' works lies in the "in-between" of the illusions that our sight creates. We hope that visitors to this exhibition will actively explore ways of addressing those illusions.
Artists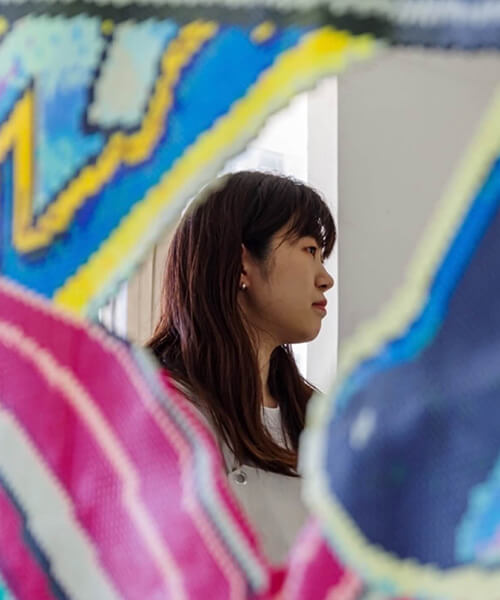 Yuka Numata was born in Chiba Prefecture in 1992. She studied abroad at the Academy of Fine Arts Vienna in 2019–2020 and graduated from the Graduate School of Tokyo University of the Arts in 2022. A member of the digital-native generation that has grown up with the internet as an everyday presence, Numata incorporates the sense of the times and distinctive features of the contemporary era and the characteristics of her generation into her works. Her medium of choice is a child's toy, namely plastic beads that are fused together with the heat from an iron. In the process of laying out each bead, one by one, to create an image, while hinting at the analogue, she causes a breakdown of the image as it appears digitally. In doing so, she deploys a method of expression that is in its own new dimension, one that is neither two-dimensional nor three-dimensional.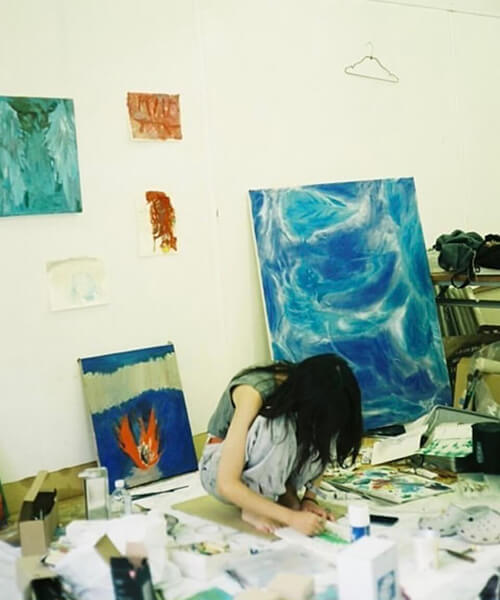 Miki Ishiyama was born in Hokkaido in 1998. She graduated from the Oil Painting Course, Department of Painting, Faculty of Art and Design at Tama Art University in 2020 and is currently studying for her master's degree in the Oil Painting Course, Department of Painting in the Graduate School of Fine Arts at Tokyo University of the Arts.
The impetus for Ishiyama's painting process comes from listening to music. She goes searching on the internet for musicians whom she is not even sure exist, and when she finds them, she listens to them over and over. As if possessed by their presence, she commits images that have a sense of life to canvas. By painting these images with the most basic of techniques, she expands her own unique painting universe, in which her personal encounters and experiences are assimilated into the act of painting.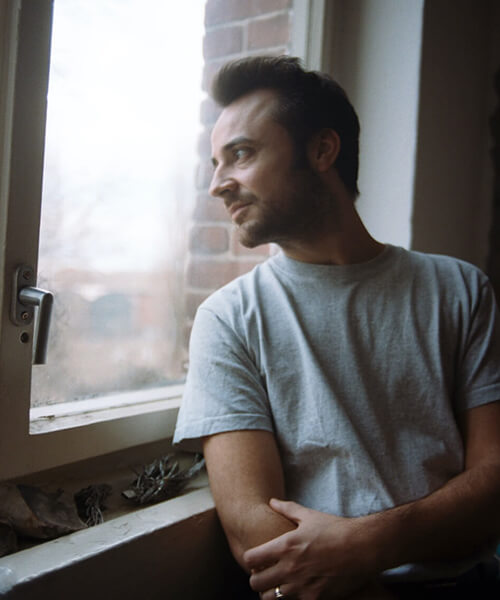 After studying fine art, fashion textiles, and environmental science in Paris and London, Dommanget now divides his time between Berlin and Tokyo. His body of work includes a series that combines the digital domain, including 3D CG sculptures and collages, with his own distinctive, substantial medium of lenticular printing. Another important series is a progression of works that combine graffiti with the Japanese paper marbling technique that is over 1,000 years old to create vibrant and contemporary mineral patterns on the canvas.
OUTLINE
DATE 
January 14 – February 25, 2023
12:00 – 18:00 (Tue- Sat) *Closed on Sun, Mon, and Public Holidays
VENUE 
Tokyo International Gallery
TERRADA Art Complex II 2F, 1-32-8 Higashi-Shinagawa, Shinagawa-ku, Tokyo, 140-0002 Japan
Access: 8 minutes' walk from Tokyo Waterfront Area Rapid Transit Rinkai Line "Tennoz Isle Station", 10 minutes' walk from Tokyo Monorail Haneda Airport Line "Tennoz Isle Station", 8 minutes' walk from Keikyu Main Line "Shinbanba Station"