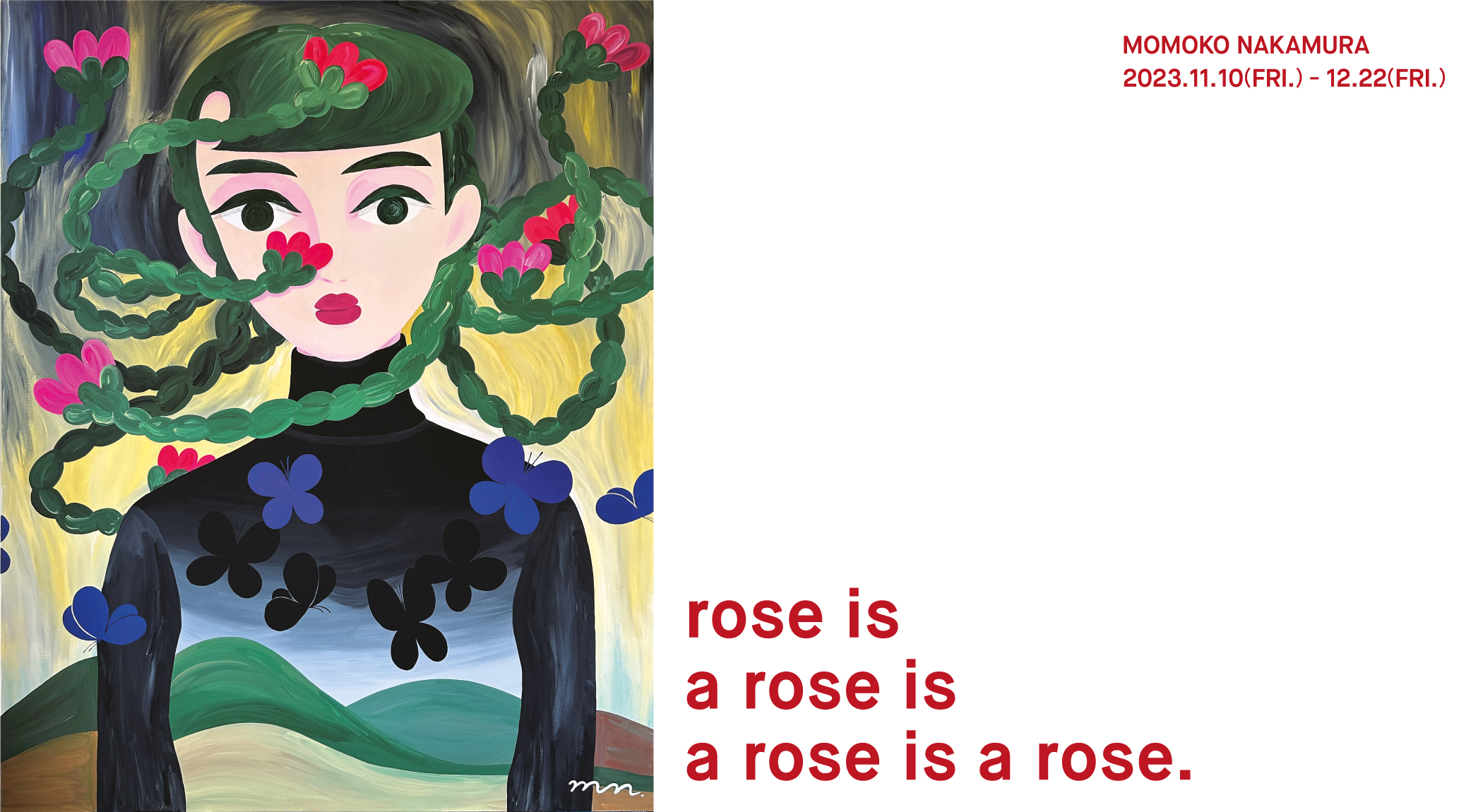 rose is a rose is a rose is a rose.
Momoko Nakamura
November 10 - December 22, 2023
Tokyo International Gallery
Solo Exhibition
Momoko Nakamura is a contemporary painter born in Tokyo.
With her unique world view, she depicts emotional female figures and plants and flowers with biological characteristics. After graduating from the Visual Design Department of Kuwasawa Design School, she worked at a graphic design office before becoming an artist/illustrator.
It has been about 7 years since 2016 when she started painting as an illustrator, and has been presenting her works as Fine Art for the past few years. She writes down her thoughts and feelings on a daily basis and puts the world she envisions from those words onto the canvas. The women and plants depicted by his powerful brushstrokes are characterized by their clear-cut forms. The expressionless images of women give the viewer a blank space to imagine their feelings. In this solo exhibition, Momoko Nakamura returns to her origins as a painter, presenting her world view on a grand scale with her largest-ever works. Momoko Nakamura's world view will be presented on a grand scale with one of the largest works ever exhibited.
<Artist Statement>
A rose is a rose is a rose." is a quote by Gertrude Stein, "Discoverer of 20th century art," an American author, poet, and art collector. It is a memorable title I gave to one of my paintings in the second group exhibition I participated in 2016 when I started painting. Even now, almost 7 years later, these words still question my existence, and their timelessness It is a title that I still use today. I used "rose" as a metaphor for the women, animals, and flowers I depict in my work. I hope to create a space where people can reflect on themselves.
■開催概要
rose is a rose is a rose is a rose.
DATE: 2023. 11. 10. Fri – 12. 22. Fri
opening reception: 2023. 11. 10. Fri – 12. 22. Fri 17:00 〜 20:00
Tokyo International Gallery
TERRADA Art Complex II 2F, 1-32-8 Higashi-Shinagawa, Shinagawa-ku, Tokyo, 140-0002 Japan
Access: 8 minutes' walk from Tokyo Waterfront Area Rapid Transit Rinkai Line "Tennoz Isle Station", 10 minutes' walk from Tokyo Monorail Haneda Airport Line "Tennoz Isle Station", 8 minutes' walk from Keikyu Main Line "Shinbanba Station"