AUN
Nanae Mitobe, Yuto Nemoto
June 11 - July 23, 2022
 Tokyo International Gallery will launch "AUN" on June 11. AUN is an ongoing project that rethinks the "exhibition" through the flat collaboration of players.
 Today, exhibitions are created by a variety of players. Artists, gallerists, critics, archivists, designers, curators, collectors, researchers, and audiences. And whether or not each player is conscious of this connection, the exhibition exists because of his or her role. AUN begins with an awareness of the connections among these players.
 AUN begins with the Tokyo International Gallery (TIG), which is a gallery, of course, that regularly holds exhibitions and serves as a transit point for artists and their works. The word "gallery" originally refers to a corridor outside the building, a place open to the outside world where people come and go, and where circulation is open to the public.
 "AUN" presents an open corridor at the start of the exhibition, and closes after creating a connection between players. And from that connection, a new "AUN" will begin.
L-shaped Blonde Hair and Excavated Human
 This exhibition is a two-person show of a painter and a sculptor who create works based on the human image.
 Nanae Mitobe uses a large amount of paint on canvas as a support to compose her paintings. The series on view in this exhibition pays homage to "TIME" magazine. In these paintings, she recreates the world-famous people who adorn the cover of the magazine, including politicians such as Trump and Vladimir Putin, athletes, singers, and others who are active in various media and are making a splash in the world – people we already have an image of, but Mitobe reconstructs them as paintings.
 For this exhibition, Yuto Nemoto will present a huge human figure measuring 3 meters in height. The figure, titled "Excavated Human," is made by digging in the soil of Nemoto's garden, molding the excavations into a clay mold, and then standing the clay vertically. In contrast to Mitobe, the motif is not a famous person, but a "nobody," so to speak. Nemoto creates his works from such fundamental images of human beings.
 The thickly painted cover of "TIME" destroys the image we have of the celebrity depicted and reconstructs a new image. On the other hand, the huge, upright "nobody" is, in other words, a "person who could be anyone," taking on the image of pre-human and post-human humanity.
 By viewing the two artists' works together, a certain image of a person emerges and the image repeats itself. It is neither a simple individual nor a universal concept of humanity. The "human image" of the two artists with their different production methods – it is not a single person with characteristic blond hair in an L-shape, nor a huge clay figure excavated in a garden, but perhaps it is a portrait of us living in the present age. It may be a portrait of us living in the modern age.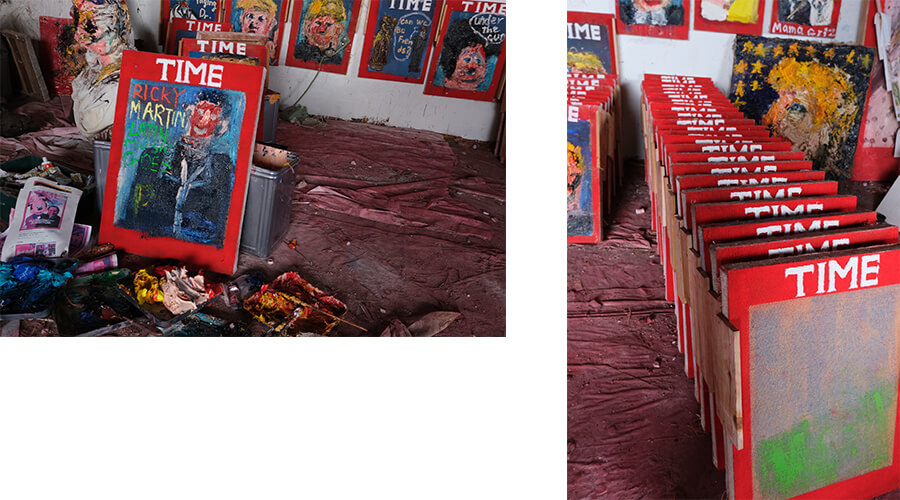 「Work in progress at Nanae MITOBE's studio」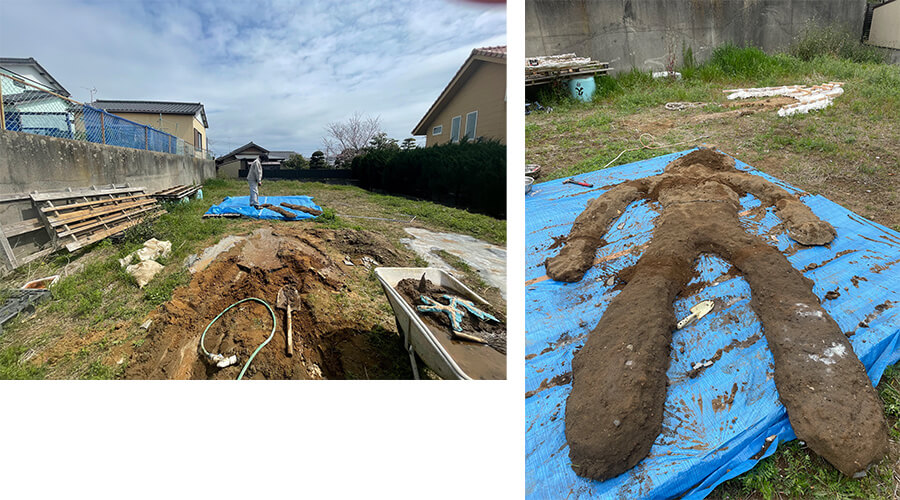 「Work in progress at Nanae MITOBE's studio」
ARTIST
Nanae Mitobe
Yuto Nemoto
OUTLINE
DATE 
June 11- July 23
12:00 – 18:00 (Tue- Sat) *Closed on Sun, Mon, and Public Holidays
VENUE 
Tokyo International Gallery
TERRADA Art Complex II 2F, 1-32-8 Higashi-Shinagawa, Shinagawa-ku, Tokyo, 140-0002 Japan
Access: 8 minutes' walk from Tokyo Waterfront Area Rapid Transit Rinkai Line "Tennoz Isle Station", 10 minutes' walk from Tokyo Monorail Haneda Airport Line "Tennoz Isle Station", 8 minutes' walk from Keikyu Main Line "Shinbanba Station"
Artist
Nanae Mitobe 
Painter. Current graduate student at Tokyo University of the Arts.
She paints thick, heavy paintings by boldly grabbing oil paints from Ittokan (a cuboid tin can of 18-20 liters) with her hands. She has been painting portraits of public figures as motifs for several years, and a residency in the United States in 2014 led to her DEPTH series of anonymous faces, which was exhibited at the Aichi Prefectural Museum of Art in 2016. I am a yellow from the series was acquired by the same museum in 2020. In recent years, she received the VOCA Encouragement Award from the Ueno Royal Museum in 2020 and held a solo exhibition at the Tokyo Opera City project N in 2022. She has produced the cover art for Masaki Sugata's CD album Last Scene, and appeared in the PR campaign for CASIO's G-SHOCK 2100 Series. Her representative works include STAR Series featuring pop icons such as Michael Jackson and David Bowie, and Picture Diary depicting current global events that appear on the SNS platforms.
Major exhibitions include war is not over at void+ (2022), OKETA COLLECTION: THE SIRIUS at Spiral Garden (2022), project N 85 Nanae Mitobe / I am not an Object at Tokyo Opera City (2022), VOCA Exhibition 2021 at Ueno Royal Museum (2021), Rock is Dead at biscuit gallery (2021), -Inside the Collector's Vault, vol.1-Unleashed Collection Exhibition at WHAT (2020), I am yellow at Maki Fine Arts (2019), APMoA, ARCH vol.18 DEPTH – Dynamite Pigment – at Aichi Prefectural Museum of Art (2016).
Yuto Nemoto
Born in Choshi City, Chiba, 1992.
He creates sculptures using ceramic as his main material. In recent years, he produces human figures based on various images, and his output is diverse ranging from a stick man to an old man buried in feces. His images are prompted by drawings, dreams, and the daily developments of prejudice and realizations. At TIG, he will exhibit a giant human figure over 3 meters high. A human-shaped hole dug in a garden will be made into a three-dimensional figure, and the figure will stand firm vertically. The standing figure will be a new breed of human excavated from the earth. His major exhibitions include Nothing At All at TokenArtCenter (2021), PERFECT OFFICE at AOYAMA STUDIO164 (2020). He was selected for Gunma Youth Biennale (2021), won the Grand Prize for CAF Award (2018) and the Nihon University College of Art Dean's Award (2015).
Public Collection: Permanent Installation of Dr. Yuto Nemoto's Statue in Daibetsu Iyashi no Mori Park, Fuefuki-shi, Yamanashi, Japan (2015).
Gallerist
Kosuke Shimamura
Gallerist. Born in Tokyo, he moved to the United States in 2012 and returned to Japan in 2016. After meeting artist Michael Ho in the United States, he established Tokyo International Gallery in 2019. He has exhibited at art fairs in Japan and abroad and opened the current gallery in 2020 at TERRADA ART COMPLEX II in Tennozu. He strives to further advance the art scene in Japan through the management of the gallery and productions of exhibitions focusing on up-and-coming artists.
Yayoi Tanimoto
Gallerist. Born in London. After studying in Australia, England, and the United States, she currently resides in Japan since 2019.
Her mission is the global development of the Japanese art scene, and she works with each artist as their number one supporter and sympathizer. Acting as a pipeline for mediating domestic and international art, she creates unprejudiced connections between artists, collectors, curators, and other diverse players involved in contemporary art. Major exhibition projects include Have you ever seen a ghost (2022), The Practice of Alchemy (2021), Everything but… (2021), Endless (2021), and H―C三N (2020). (All held at the Tokyo International Gallery.)
Designer
Mio Asai
Born in Tokyo, 1997. She graduated from Tokyo University of the Arts, majoring in design. Asai's work ties personal history to social issues, edited with a wide construction, and is expressed as visual information graphically. While crossing over between client work and artistic projects, she works with a focus on the design field.
Concepter
Yuu Takagi
Born in Kyoto, 1994. He graduated from Tokyo University of the Arts, Graduate School of Global Arts, Department of Arts Studies and Curatorial Practices. He is the director of the curatorial space, The 5th Floor. Through his practice at sites not delimited to the white cube, he explores ways for exhibitions to exist as a place of sympathy. Major exhibitions include Le Jardin Convivial (Kyoto, 2019), Between two stools (Tokyo, 2020), and Standing Ovation (Shizuoka, 2021).
Critique
Akimi Ota
Born in Tokyo, 1989. Filmmaker and cultural anthropologist. After graduating from the Faculty of Intercultural Studies, Kobe University, and Master's Program in Anthropology at the École des hautes études en sciences sociales (EHESS) in Paris, he received his Ph.D. from the Granada Center for Visual Anthropology at the University of Manchester. During his time in Paris, he conducted anthropological research in Morocco and the Paris suburbs while working as a photographer and reporter for the Kyodo News Paris bureau. During this period, he frequented the Cinémathèque Française, a pilgrim for cinema devotees, and immersed himself with images. At the University of Manchester, he studied advanced techniques that crossed cultural anthropology and documentary film. After a year of research and residency filming in the Amazon rainforest, he released his first film, Canalta: Alive in Dreams. In 2021, he held a solo exhibition Wakan / Soul Is Film (The 5th Floor), in which he created an installation using photographs and video clips. In the same year, he participated in the ATAMI ART GRANT art festival held in Atami, Japan, and continues to unfold his work not limited to film expression.
Photographer
Shuhei Tsukishima
Author. Born in Hyogo, 1990. He was removed from Kyoto University, Integrated Human Studies, Department of Psychoanalysis.
He is involved in arts from the field of written expression. In addition to composing and editing exhibition texts and publications, he also participates in art exhibitions as a writer. Major exhibitions include The Drowned World Anchor (Tokyo, 2019), Say Hello to Strangers (Ishikawa, 2021), PROJECT ATAMI (Shizuoka, 2021), and N Rent-House is a Good Rent-House: Luminous Rent-House and Luminous Music (Tokyo, 2021). He is a member of the curatorial collective HB and the writer collective Mono-Shaka.
Editor
Naoki Takehisa
Born in 1995. He graduated from Tama Art University, Department of Information Design, Art and Media Course, and a member of Semitrasparent Design since 2019. He takes photographs while mainly dealing with images that emerged after the popularization of social media. Recent major solo exhibitions include Suicide Sheet (Decameron, Tokyo, 2022), group exhibitions include Planet Samsa (Former Odaka Bookbinding Site, Tokyo, 2022), Silent Category (Creative Center Osaka, Osaka, 2021), and Ökumene (BLOCK HOUSE, Tokyo, 2020). Organized exhibitions include power/point (Akibatamabi 21, Tokyo, 2022) and Dis-Display (CALM & PUNK GALLERY, Tokyo, 2021).
Mitobe on Nemoto 2022. 4. 4.
I got to know him directly when we exhibited together at the Polyphonic process + pressure exhibition organized by Motohiro Tomii last year. I could not associate him as the CAF award-winner at the time and was simply impressed by his ceramic work of distorted portrayal of Luffy from the manga series ONE PIECE. When I chatted with him, I found that contrary to his playful works and characteristic, he was acquainted in the academic field and in his doctoral course. We talked about retrospective topics on the issues of sculpture and painting, but I found him fascinating for a different reason. There are always risks associated with copyrights when dealing with public characters, but he easily mingles these motifs with his light-hearted jokes and makes them into his work. I remember thinking that an exhibition by such an artist could be a counterpoint to the current art market.
I next visited his studio. It was a spacious factory, the wind was howling, and the sound of the door creaking slowly shut was just like something out of a horror movie. It was the kind of factory you might expect to see in a scene from Silence of the Lambs — you were sure you'd find a corpse somewhere. There was a huge kiln and Nemoto's old and new works. Pots with painted faces were casually laying around, and Nemoto noted that he wanted to plant soil and plants in them. An unthinkable idea for a work of art, in common sense. For a brief moment, I had a grotesque image in my mind of a plant growing out of Paul Krendler's brain, but as a painter who's been chasing faces, the presence of plants and soil felt like salvation in some sense. When I paint portraits, my main focus is on human relationships, painted with ridiculousness, stupidity, beauty, and violence. Nature, on the other hand, can sometimes be an allergy or a disaster for humans, but it is essential for the birth of life. I thought that his thoughts and works could be a sort of healing in our man-centered world.
On my next visit, I got to see an astonishing sight on the vast land — concrete being poured into huge three-meter holes in the shape of human beings. Zombies, indeed! I thought. But I was told that the two human figures (a man and woman) lying on the ground would rise up and be transported to the exhibition site, soil and all.
Revisiting his works, it's interesting to see that many of his motifs are of ordinary people or primitive-looking people. They are simple people who are usually out of the spotlight. As someone who has been painting celebrities, I had a hunch that by combining my work with his, the exhibition would become a space that reflected society.
It's not the Revolution in the game Daifugo*, but my paintings of small politicians would not be a match to his huge civilians. A twisted ending, and I'm not complaining.
Nanae Mitobe
*Daifugo: Japanese version of the card game President. Revolution makes the strength of cards reversed.
Nemoto on Mitobe 2022. 5. 1.
The sculpture is an expression that cannot help but exist in the world with the matter.
I first encountered Mitobe exactly one year ago at Musashino Art University's sculpture department exhibition. The theme of the exhibition was busts, and each artist created a bust that was placed side by side on the same pedestal. Mitobe was the only painter who participated, and she displayed her painting on the wall in a separate booth from the bust sculptures. Because Mitobe paints with massive amounts of paint, it brings her paintings to rise out of the square canvas, and the paint has no choice but to exist in this reality as a body of matter. In this exhibition, too, her painting on the wall was extremely heavy. That familiar scene that occurs during an installation of a sculpture, many people working together to install a work of art, was being unfolded as Mitobe, a "painter," was installing her piece. I had never seen this scenery, student staff working in unison, counting "1, 2" as they lift a heavyweight "painting" to hang on the wall. But at the same time, it was the motion that I had always seen in the field of sculpture. Another reason that made this scene unforgettable was the fact that most of us simply placed the busts on our designated pedestals, and since the order of their placement was decided by the exhibition organizer, Motohiro Tomii, some artists merely sent in their work and did not show up for the installment, making the installation rather simple. I went to the venue because my work needed to be adjusted on site, but most of the participating artists did not show up. My work for the show was a sculpture of Luffy, the main character of the manga series ONE PIECE, and with a reference to the manga's plot of comradeship, which I consider to be the main theme of ONE PIECE, the aim was to coax the other busts of different generations, materials, and forms into Luffy's comrades. Mitobe, as a fellow artist who creates with celebrities and actual people as motifs, was interested in this Luffy piece and we discussed the legal issues, such as whether I had obtained permission from the ONE PIECE side. I have long been creating and presenting derivative works using images that circulate as originals, such as Yu-Gi-Oh!, Pokémon, and Robocon, without any permission, so the copyright issues had been on my mind for a while and she provided me many insights. Mitobe advised that if I displayed Luffy as Luffy, it may bring some problems when someone from ONE PIECE゙'s side discovers it. So I decided to name the work "Pirates King" and that was the end of our first discussion. Later, Mitobe called me and asked me to participate in this exhibition, to which I said yes. At the time, Mitobe seemed to be set on the direction of the exhibition on derivative characters and works of celebrities developed in the realm of art. I also thought that would be an interesting exhibition, but I had a new image I wanted to create, so I decided to show something new. This brings us back to my first sentence; sculpture is a strong medium that cannot help but to exist in the world with the matter. My creative process begins with an image, which I then struggle to realize with materials and substances. I believe this dialogue between the image and material to be the most important element of sculpture, and in a sense, also a limitation and hindrance. I can come up with an image in a few seconds. However, to realize the image, it takes a great deal of time, effort, accidents, and facing things that won't be manipulated. One of the things I admire about painting is that it allows the artist to imagine their universe within a frame, which can store an image that defies the laws of physics. However, because the hefty paint in Mitobe's works literally rise from the image and substantially exist in the world, larger works cannot be hung on the wall, and those with inconceivable weight are laid flat, impossible to be maneuvered easily. This is a very peculiar situation. What we see may be the trace of the struggle to escape from images that cannot be concealed within a square canvas. Mitobe's studio is covered in paint, leaving marks of her struggle with the material, reminiscent of a martial arts arena. Although sculptures and paintings differ in thought, technique, and media, I am sure that the way we struggle as artists in this world will bring something unique to rise.
Yuto Nemoto
From the Gallery, June 6, 2022.
Our first encounter with Ms. Mitobe dates back to two years ago.
I was opening a new gallery and was looking for artists to exhibit at the grand opening. I gathered information from magazines, Instagram, exhibitions, and various other media, and contacted the artists I was interested in via email. Ms. Mitobe was one of them.
An e-mail from an unknown gallery must have seemed like junk mail. Nevertheless, Ms. Mitobe graciously agreed to allow us to visit her studio, and on July 7, 2020, Tanimoto and I stepped into her studio in Togane, Japan. I remember that the space was as large as a school gymnasium and had a strong sense of presence. The smell of paint that pervaded the space was somewhat pleasant, and we felt as if we had entered a different space. When Ms. Mitobe came out of her atelier, she was wearing a full-body paint-covered pupa. As someone who judges artists based solely on their works, I found this to be a different image from what I had imagined.
My first impression of Ms. Mitobe's work was its intensity. The thick layers of paint on her works, which combine "anger," "appeal," and "healing," seemed to me to be a kind of tranquilizer for Ms. Mitobe. During this visit, I formally asked Ms. Mitobe to exhibit her work, and on October 1, 2020, the grand opening of the exhibition "H-C3N" was realized.
In discussing this exhibition with Ms. Mitobe, the name of Mr. Yuto Nemoto came up. Ms. Mitobe had participated in a group exhibition at Musashino Art University with Mr. Nemoto, so she said, "I would like to work with Mr. Nemoto.
On December 6, 2021, Mitobe and I visited Nemoto's atelier in Choshi. The place was dim and cold, and while some of the works scattered about gave an eerie and frightening impression, the works themselves had a worldview that was conscious of anonymity and spoke of the root of the "person" as no one. The work of flowerpots in which plants are planted is heavy in terms of the weight of the pottery itself, but the weight and presence is further increased by the presence of living plants.
There is a sketch that Nemoto drew on the spot in his atelier, saying, "I want to create this".
After that, we talked about finding a conceptor, and the name of Yu Takagi, a curator at the 21st Century Museum of Contemporary Art, Kanazawa, came up, and we immediately asked him to do the job. The day ended with the discussion of finding someone to review the exhibition.
As the year began, on March 20, most of the members involved in the exhibition had an opportunity to gather.
The gallerist, the artist, Mr. Takagi, who accepted the offer of conception, and the film director, Akimi Ota, whom Mr. Takagi brought with him.
All members gathered at Ms. Mitobe's studio and then headed to Mr. Nemoto's studio. On this day, the two artists explained the works they were going to exhibit, interviewed Mr. Takagi, talked about asking Mr. Ota to review the exhibition, and disbanded when the sun went down. After that, Mr. Takagi gave an overview of "AUN," the concept of this exhibition, and the nine main members of the group decided to proceed with the exhibition.
After various discussions, it was decided that Ms. Mitobe would present the "TIME series" and Mr. Nemoto would present a huge 3-meter-tall human figure, as shown in the sketch above.
Mitobe's "TIME series" is a series of drawings that pay homage to the cover of TIME magazine. The 42 paintings, arranged in rough chronological order, are like a series of appeals made by celebrities on TV and SNS, and seem to reflect society in some way. Nemoto's work, on the other hand, is titled "Excavated Human," and is made to stand vertically as it is by digging out the soil in his garden, molding the excavation, and shaping it with clay. The giant appears to be an image of the outspoken masses, and the way it is placed in contrast to Mitobe's 42-piece "TIME series" is like a duel, or a demonstration or protest, in tension.
This exhibition focused on the part of people with various roles in a single exhibition that is fascinating. The exhibition started about six months after the gallerist's suggestion, but it has evolved through repeated meetings and discussions among artists, conceptors, designers, critics, photographers, editors, and others who generously visited the atelier. The result was a series of meetings and discussions that evolved over the course of the exhibition.
When we put the works into a white cube as the culmination of the project, what we saw was a scene of two artists still discussing their works.
Kosuke Shimamura